Jamie McGuire has done it again! Her newest novel Beautiful Oblivion has set a new standard for me.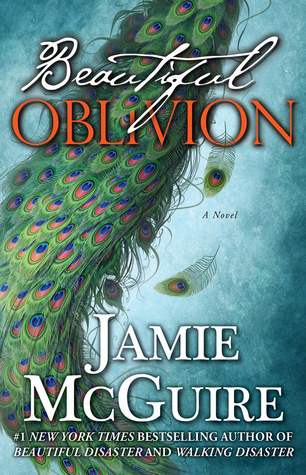 "The Beautiful Disaster and Walking Disaster phenomenon continues in the first heart-pounding new adult romance in The Maddox Brothers series.
Fiercely independent Camille "Cami" Camlin gladly moved on from her childhood before it was over. She has held down a job since before she could drive, and moved into her own apartment after her freshman year of college. Now tending bar at The Red Door, Cami doesn't have time for much else besides work and classes, until a trip to see her boyfriend is cancelled, leaving her with a first weekend off in almost a year.
Trenton Maddox was the king of Eastern State University, dating co-eds before he even graduated high school. His friends wanted to be him, and women wanted to tame him, but after a tragic accident turned his world upside down, Trenton leaves campus to come to grips with the crushing guilt.
Eighteen months later, Trenton is living at home with his widower father, and works full-time at a local tattoo parlor to help with the bills. Just when he thinks his life is returning to normal, he notices Cami sitting alone at a table at The Red.
As the baby sister of four rowdy brothers, Cami believes she'll have no problem keeping her new friendship with Trenton Maddox strictly platonic. But when a Maddox boy falls in love, he loves forever—even if she is the only reason their already broken family could fall apart.
In the first installment of the Maddox Brothers books, readers can experience the rush of reading Beautiful Disaster for the first time, all over again" (good reads book bio).
I fell in love with Beautiful Disaster and would have never thought that I could enjoy another set of characters as much as I did Travis and Abby BUT I was WRONG.  Trent and Cami are a beautiful couple.  And I might love there story more than Travis and Abby which is a shocker.  Trent and Cami are both straight forward honest, what-you-is-what-you-get people; they allow readers to relate easily causing their story to invade your life like you are living it.
LIKE ALWAYS, McGuire writes perfectly. This time she ends with an amazing twist that I honestly did not see coming at all!  I read the last page and screamed!  With some similarity to Travis and Abby's progression McGuire uses Trent to make a note of said similarity which brings humor adding to a new uniqueness that is Trent and Cami.  With many new lovable characters and a door busting wide upon for the other Maddox boys I am ready to see the next installment of these crazy love stories,
I was not, however, expecting Beautiful Oblivion to be told by Cami's perspective.  It would make since to continue in the same fashion as Beautiful Disaster began this journey.  I'm hoping MAYBE Oblivion will written from Trent's perspective if we are indeed to follow in Disaster's footsteps.  We can only hope.
An overall kudos to McGuire for writing another beautiful piece that had us gripped with every word on every page.  I love Trent and Cami and am looking forward to the next Maddox adventure.
READ IT NOW!
P.S.- I also really want "baby doll" tattooed on my fingers…
For more from Jamie McGuire:   http://www.jamiemcguire.com/      @JamieMcGuire    https://www.facebook.com/Jamie.McGuire.Author
~Please! Don't forget to like, comment, share and follow!~